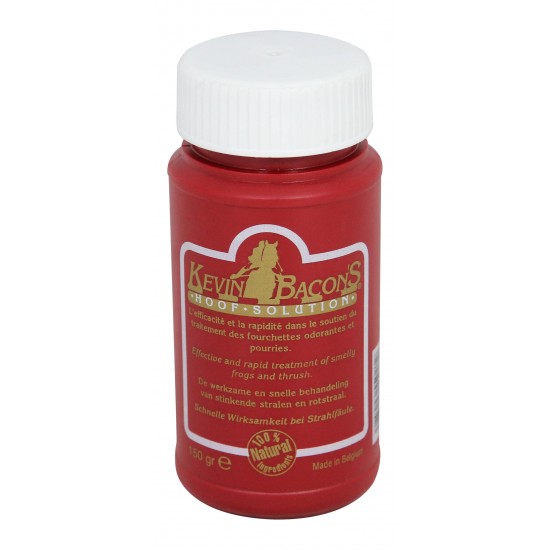 Hoof Solution, KEVIN BACON
Stock:

In Stock

Model:

747-0001-533
Description
Hoof Solution is a remarkable product for use on hoof soles and frogs in contact with wet or muddy enviroments. The moisture and acidity of the floors and bedding often damage the soles and frogs of our horses' feet.
It can be used on frogs and soles that are soft, sensitive, smelly, and/or too thin. Hoof Solution works quickly, acting like a bandage for 24 hours long. It insolates the sole and frog from the environment of the stall. Thanks to the protective coating, damaged tissue can heal much faster.
Available in a 150 gr bottle
Hoof Solution is also a very efficient remedy to treat:
white line disease
thrush
infected hoof soles
aerobic, anaerobic bacteria and fungi
Use
Each time the horse is reshod and before any silicone is applied is highly recommended. Thanks to the included applicator brush, Hoof Solution is very quick and easy to use, adhering perfectly and strongly to the hoof (if they are clean and dry).
Directions of use
Brush out the sole, clefts, and frog meticulously (without using water!) and remove all dirt and necrotic tissue. Shake the bottle a few seconds before applying in order to resuspend the active ingredients in the solution and apply a thin coat.
Application
Prevention: Once per week
Severely damaged frogs: Once per day for 3-5 days (depending on severity)
You may also apply Hoof Solution as often as needed. Regular application can keep your horse's hooves clean and health and will give optimal results.
Contains: glucose, fructose, copper salt, acetic acid, water

CAUTION: For external use only